If Picture Motion Browser is already installed in your computer

Back to the Top Page
If Picture Motion Browser, software supplied in a CD-ROM, is installed in your computer, a launcher window is displayed to select software when connecting the camera and the computer using the USB cable.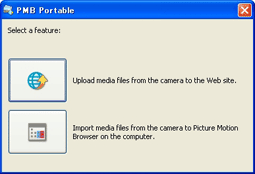 Clicking

(Upload media files from the camera to the Web site) starts up PMB Portable.
Hint
Click to import videos and still images using Picture Motion Browser.